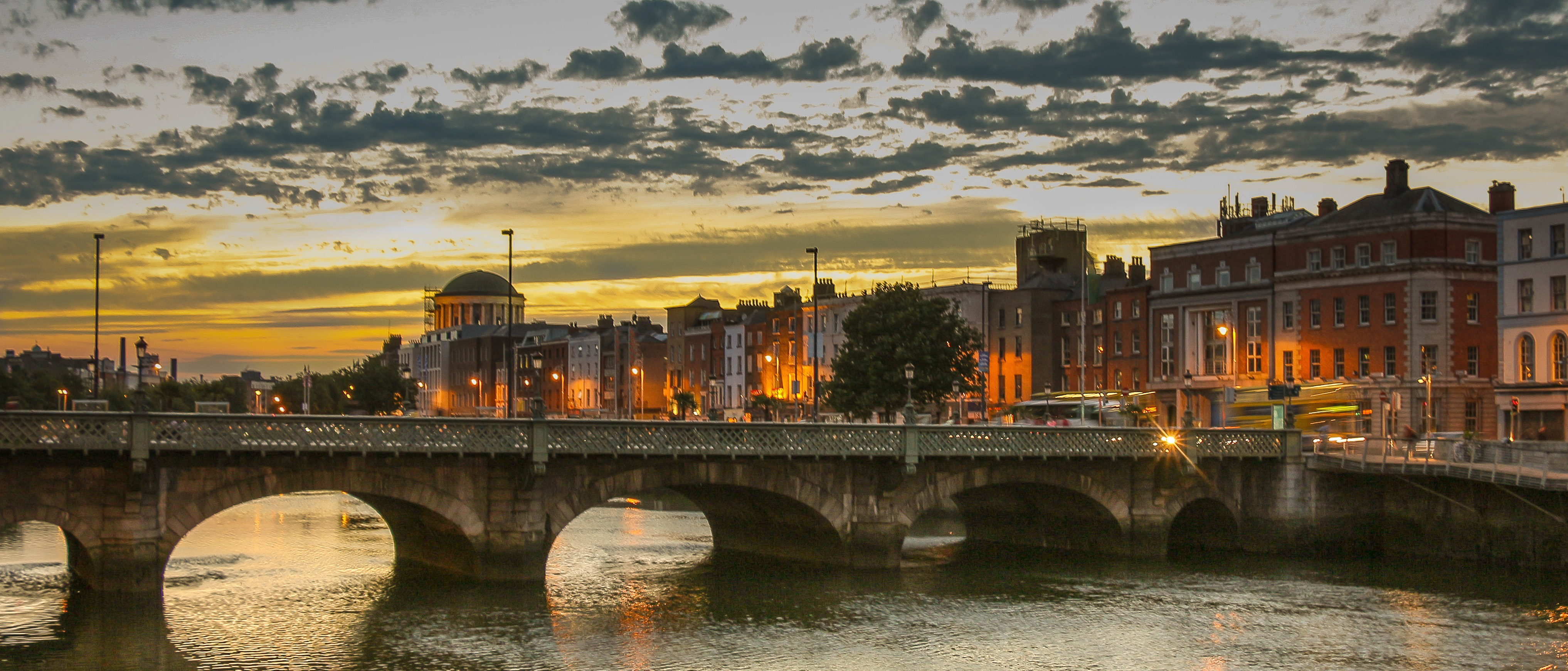 WHY STUDY LITERATURE AND PHOTOGRAPHY IN IRELAND?
Ireland offers a heritage of traditional and contemporary culture, with a wealth of artists, museums, entertainment, and historical sites that will inspire student's study of literature and photography.  Dublin, a UNESCO "City of Literature," is the major center for Irish art and national history. Ireland's largest city, Dublin is a hub for artists, food, pubs, art, and museums. Many of the major artists and historical figures that shaped Ireland call Dublin home. Dublin will offer students a captivating and vibrant city that will enrich their studies of Irish culture. Further west is Galway and the Wild Atlantic Way. Students will visit the Cliffs of Moher and the Aran Islands where Irish remains the primary language. The landscapes of Western Ireland served as inspiration for a number of artists who used geography as a means to explore a unique Irish identity. The capital of Northern Ireland, Belfast is more than its Game of Thrones association. A fascinating and complex history, Belfast with Derry present one of the world's largest collections of cultural and political murals that illustrate the story of Irish history. With its picturesque landscapes, its fascinating social history, and its wealth of art and culture, Dublin and Ireland is where students can become passionate about literature and photography in their study abroad.
SEE THIS IRELAND PROMO VIDEO AND MEET YOUR INSTRUCTORS:

HIGHLIGHTS OF ACTIVITIES AND FIELD TRIPS
Located at the center of Dublin, students will board and study at Trinity College, which dates back to 1592.

Bloomsday Festival in Dublin, a city-wide celebration of James Joyce's Ulysses.

Events and exhibitions at the James Joyce Center, Dublin Writers Museum, and Museum of Literature Ireland support our reading in Irish literature.

A Black Cab Tour with guide of the murals of Belfast.

Photography fieldtrip to the Cliffs of Moher and an all-day trip to the Aran Islands. 

A visit to the Seamus Heaney HomePlace and Derry's "Free Derry Museum" to gain insight into the complex political, social, and literary history of Northern Ireland.

Fieldtrips to the Dublin Gallery of Photography and Belfast Compact Photo Festival

(pending).

Tour of the old Trinity Library and the Book of Kells exhibition
PROGRAM LOGISTICS
Open to students age 18 and older with a cumulative GPA of 2.00 or more. If you are below a 2.00 GPA and place a deposit for this program, it will be returned to you, and you could be assessed a nonrefundable $50 application fee from AIFS. If you're not sure about your academic status, please check your SRJC portal or contact the Study Abroad coordinator, Patty Warne (pwarne@santarosa.edu).
Students will be taking ENGL 1B (Literature and Composition) and ART 82 (Beginning Digital Photography). Please see class link for details. 
Optional flight transportation package available (minimum 10 students) at additional cost.
Accommodations in Dublin (20 nights), Galway (5 nights) and Belfast (7 nights), all with single rooms within a shared apartment/student dorm with shared kitchen and living space, and laundry facilities on site. Linens and towels and free wireless internet are included.
Dublin: Shared apartment/student dorm at Trinity College Dublin. The accommodations are connected to campus via 24-hour footbridge and gated access with keycard.
Galway: Shared apartment/student dorm at NUI (National University of Ireland) Galway. Free shuttle service is provided between the campus and the city center during the day and accommodations are within 30-minute walking distance from the city center.
Belfast: Shared apartment/student dorm at Queen's Elms Village, Queen's University Belfast.
Transportation included for all excursions and travel days.
Leap Card travel pass pre-loaded with €25 for use on buses, Luas and Dart trains in and around Dublin and on some public buses in Galway will be provided. Translink pass for unlimited travel on public transportation in Belfast also included for Belfast section.
AIFS will provide experienced staff team in Dublin and dedicated staff member in Galway and Belfast to ensure smooth running of program and provide information and support to the group.
Student medical insurance will be included as outlined in the AIFS insurance brochure.
IMPORTANT! 

A Covid-19 vaccination will be a requirement for all participants (students and faculty) in this program. AIFS will require you to show proof before you can leave the U.S.
WHY CHOOSE THIS PROGRAM?
This program is offered to enable students to study abroad while making normal progress toward their degree objectives, and earning units in courses taught by Santa Rosa Junior College faculty. This program is offered in partnership with the American Institute for Foreign Study (AIFS), which arranges transportation, living accommodations, and a wide range of student and instructional support services. Units earned on this trip will appear on transcripts issued by Santa Rosa Junior College.
PROGRAM DATES
Sunday, June 5, 2022

:  Depart U.S.

Monday, June 6, 2022

:  Arrive Dublin

Tuesday, June 21, 2022

:  Transfer to Galway

Sunday, June 26, 2022

:  Transfer to Belfast

Sunday, July 3, 2022

: Transfer to Dublin

Friday, July 8, 2022

:  Depart Dublin
This program will also include 2 mandatory pre-trip class meetings (likely the first week of June) as well as a separate, AIFS pre-departure informational meeting (TBD).   
 APPLICATION DEADLINE
·    The application deadline for Summer 2022 will be March 4, 2022.  
·    Please note that this program is first come, first served and once it reaches its full capacity of 30 students, the program will be closed.  
FALL 2021 & SPRING 2022 INFORMATION SESSIONS (for Summer 2022 departure)
Your instructors, Tony Ruiz (truiz@santarosa.edu) and Jessica Layton (jlayton@santarosa.edu), plan on holding informational meetings on this program beginning late Fall 2021 and continuing into the Spring 2022 semester. The first info meeting will be via Zoom on Friday, December 3, 2021 from 12 noon-1 pm.  
Meeting time:  Friday, December 3, 2021 from 12 noon to 1 pm
Zoom link:  https://santarosa-edu.zoom.us/j/95208891660
Meeting ID:  952 0889 1660
To receive an email about other future info meetings, please email Patty Warne, SRJC Study Abroad coordinator, at pwarne@santarosa.edu and request to be placed on the Ireland Summer 2022 contact list. 
PROGRAM COSTS/SCHOLARSHIPS/FINANCIAL AID
The AIFS program costs for Summer 2022 will have a base price of $4,895.These costs will include all lodging, scheduled field trips, medical insurance, and AIFS services. They will not include airfare, class tuition, books, and day-to-day expenses such as food. Please check back here later for a rundown of what specifically will and will not be included in the costs. 
 

Scholarships Information

: There will be one $500 AIFS scholarship opportunity provided you're willing to maintain a blog. Click here for application. Also, if you're a U.S. citizen and Pell Grant recipient, check out the Gilman Scholarship at https://www.gilmanscholarship.org 

Financial Aid:

Unfortunately, there is very little financial aid in the summer and there are no summer loans. Students can possibly get the California Promise Grant (formerly known as the BOG fee waiver) based on their current FAFSA.
AIFS REFUND DATES & CANCELLATION FEES
Refund requests must be done in writing to AIFS. They accept emails and that is generally the easiest way (customizedfacultyled@aifs.com).
Friday, March 11, 2022

: Last day to request refund of $450 deposit less $150 in processing and nonrefundable deposit fees.
Friday, April 8, 2022

: Total program fee is due. NO REFUND OF PAYMENTS after this date.

You are responsible for checking the AIFS Agreement & Release form about any refund dates and potential cancellation fees!

Students who withdraw after March 11, 2022 could be liable and billed by AIFS for cancelled bookings (such as airfare, etc.).
 AIFS PROGRAM CANCELLATION POLICY
Please click here for a summary of the AIFS program cancellation policy.